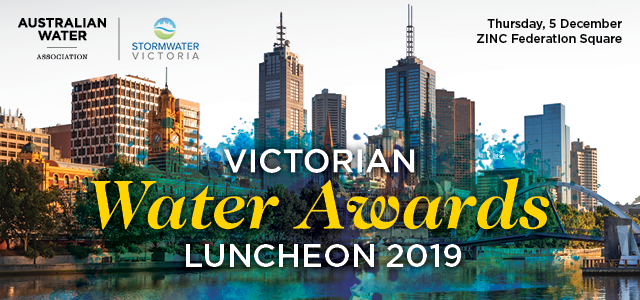 Stormwater Victoria is conducting the 2019 Awards for Excellence to encourage and celebrate excellence in the innovation, development, completion and management of stormwater projects and the people involved. This year we have partnered with the Australian Water Association to create the 2019 Victoria Water Awards. The Winners of each category will be announced on Thursday, 5th December 2019 at ZINC Federation Square. To purchase tickets to the luncheon, click here.
Following the Judging Day held on 14th October, we are pleased to announce the finalists in the 2019 Stormwater Victoria Awards for Excellence:
Excellence in Infrastructure
Two for One - Tim Neville Arboretum & Dobson Oval IWM Scheme
Knox City Council
Upgrades and Augmentation of the Melbourne Olympic Park Stormwater Harvesting Scheme
Melbourne & Olympic Parks, City West Water and IVWater
Daylighting Dandenong Creek
Melbourne Water
Jones Park Wetland
Moreland City Council, Melbourne Water, Alluvium Consulting, Thompson Berrill Landscape Design, Contek Constructions, A.S. James Geotechnical Engineers, Sellick Consultants
Sassafras Stormwater Detention System
Yarra Ranges Council, Storm Consulting, Melbourne Water
Excellence in Integrated Stormwater Design
Wollert Waterways – Overcoming the Challenge of Enhancing Habitats and Environmental Sustainability While Optimising Commercial Needs.
Golder
Alma Park Stormwater Harvesting System
City of Port Phillip, E2 DesignLab, Simpson Construction, Melbourne Water
Returning Our Lost "Wet Spaces" to the City's Environs - Creating Places Where People and Water Meet
Knox City Council
Thornhill Park Retarding Basin/Wetland Design
Spiire Australia, Melbourne Water, VicRoads
Excellence in Policy and Education
LGIDA 2018/19 Regional Victoria Training and Capacity Building Program (Drainage and Water Sensitive Urban Design)
Local Government Infrastructure Design Association, Stormy Water Solutions
InSite Water Integrated Water Management
Organica Engineering
Our Future Cities: 2018 Interdisciplinary Design program
Our Future Cities, Loci Environment & Place
Sunnyside Beach Stormwater Treatment & Education Project
SPEL Stormwater, Mornington Peninsula Shire Council
Clearwater WSUD Training
Spiire Australia, Clearwater, Jamie Comley Environmental Consulting
Approaches to Water Sensitive Urban Design: Potential, Design, Ecological Health, Urban Greening, Economics and Community Perceptions
Victoria University
Excellence in Research and Innovation
Innovation in Passive Street Tree Irrigation for Large Scale Implementation in the City of Melton
Alluvium Consulting, Melton City Council, The University of Melbourne
Connecting Planning Land Use Controls with Source Pollution Monitoring
Bio2Lab, City of Greater Dandenong
Greenvale Gardens Floating Wetlands
Beveridge Williams, SPEL Stormwater
Permeable pavement maintenance research
City of Melbourne, E2Designlab
Stormwater Harvesting Partnership Fund
City West Water
Pollution Prevention Program, Enhancing Our Dandenong Creek
Melbourne Water
Measuring the Transition Progress of Councils Embedding Integrated Water Management as Mainstream Practice
Melbourne Water, E2Designlab, CRC for Water Sensitive Cities, Ross Allen Consulting
Urban Streamflow Impact Assessment (USIA)
Streamology Pty Ltd, CT Environmental, Sydney Water, University of Melbourne
Excellence in Strategic and Master Planning
Casey Green Wedge Western Port Integrated Water Management Strategy
Engeny Water Management, City of Casey
Chain of Ponds Collaboration - Transforming the Moonee Ponds Creek Through Collective Action
Melbourne Water, Moreland City Council, Moonee Valley City Council, Hume City Council, Melbourne City Council, Yarra Valley Water, City West Water, Parks Victoria, Victorian Planning Authority, Conservation Volunteers Australia, Friends of Moonee Ponds Creek, Friends of Upper Moonee Ponds Creek, Kensington Association, Moonee BUG, Living Colour Studio
Planning for Stormwater in the Healthy Waterways Strategy
Melbourne Water
Integration of Passive Irrigation in Land Use Planning Across City of Melton's Growth Areas
Melton City Council, Alluvium Consulting, University of Melbourne
Albert Park Integrated Water Management Plan
Spiire Australia, Warrnambool City Council, Wannon Water